The Consolidated HDPE fabrication shop in Lawrenceville, Georgia crafted an order in time for a customer in Savannah to pick it up the same day. This particular customer operates a sand dredge along the Georgia coast and had an idea for a prototype injector to help avoid a shut down of his equipment. When the fab shop received the call at 9:00 am, they generated the below sketch on a piece of notebook paper. It was all they had to begin their fabrication with.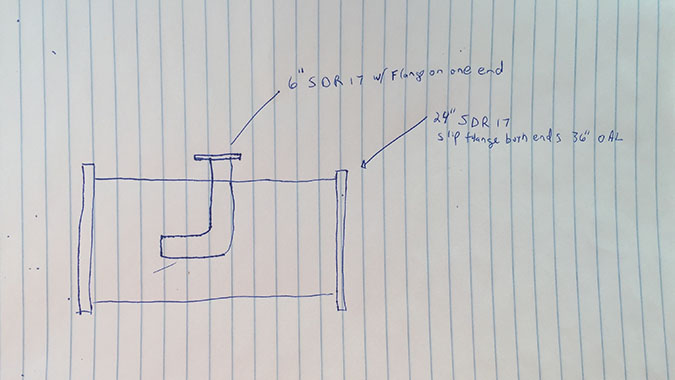 Jacob Matthes and the guys in the shop were still working out the design kinks when the customer left for the 5 hour drive from Savannah to pick up the part. As you can see from the image of the completed project, they had it all worked out and ready to go when the customer arrived.
We used 24″ dr17 x 6″ dr17 to fabricate the assembly and shipped it along with some ancillary spool pieces and bends.
Another successful job – proving again no job too big or too small for Consolidated team.